Golden Zaba
Price £49.95
The Golden Zaba is unique and beyond comparison. It's a saw and shovel in one.
The Zaba is the indispensable gardening tool for clearing an overgrown part of the garden, pruning trees or uprooting a large bush. The Golden Zaba is ideal for digging holes near roots, permeating grass, pruning trees and plants, cutting branches and keeping lawns trim.
A truly "Super Shovel," for gardeners who battle with roots, rocks and difficult soil
A unique and sensational experience for gardeners
Very sharp blade, 20 Double edged sharp serrated teeth per side
Forward turned-step for secure foot placement
Excellent quality, commercial grade carbon steel 14-gauge blade
Comes with 2 years warranty
Benefit from 10% discount & cheap shipping!
Order two or more and receive a 10% discount and only pay for one shipping fee. Double discount for you!

Multifunctioneel tuingereedschap
The Golden Zaba has a unique shape and on the side of the blade are sharp saw teeth. With these sharp sawteeth, you can cut easily through tree roots. The Zaba is also able to deal with stones in the ground. Digging a hole in challenging soil is a breeze with this powerhouse!
The Golden Zaba is also an indispensable piece of equipment to remove trees or bushes. This is normally hard work by any standards; the roots get in the way and the shovel is often not able to cut through the larger roots. With the Zaba these problems are a thing of the past.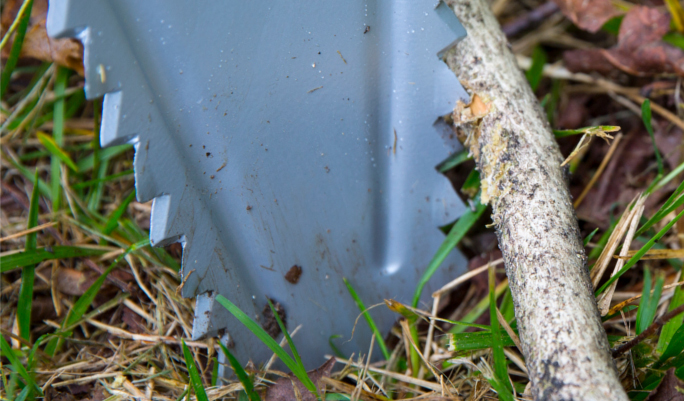 Convenience for everyone
As the Golden Zaba is made of high-quality carbon and steel, the Zaba is very light, weighing only two kilos. Because of this comparatively low weight, the Zaba is not only suitable for strong youngsters, but also for women and the elderly. The Zaba is an indispensable gardening tool for every garden enthusiast.
Due to the unique shape of the teeth, the Golden Zaba can even handle the most difficult tasks. The secret of the Golden Zaba is that the teeth cut through the roots twice. It cuts through the roots once as it enters the ground and again when it returns back to the ground.