Golden Krav
Price £24.95
The Golden Krav, a practical innovation. The Krav removes the weed between your tiles quickly and easily. Grab the weeds with the robust scraper, turn the Krav to the broom side, and brush the weed between hard-to-reach places with the specially designed broom.
Due to the unique combination of a special broom scraper, you don't need any other gardening tools to keep your tiles weed free. Weeds disappear in a snap!
2-in-1. Scraper and broom in one.
From broom to scraper in a snap
Broom with extreme depth in edges, corners and cracks
Removes rubbish quickly and easily in one move from gaps
Height adjustable with a telescopic handle
Durable quality, 2 years warranty.
Benefit from 10% discount & cheap shipping!
Order two or more and receive a 10% discount and only pay for one shipping fee. Double discount for you!

See the secret of Krav
The Krav is characterised by its multifunctionality and by the convenience that the tool brings. You can work more quickly and see better results.
The secret lies in the clever combination of a scraper and a special broom. The scraper is robust and lasts a long time. The broom has been specially designed to reach to extreme depths. You can really get into the cracks, edges of tiles and corners.
The Krav is supplied with a solid telescopic handle so you can simply adjusts the Krav's height. This means that you don't have to strain your back but that you can work effectively at the right height for you.
Watch the video, see the Krav in action and order online today.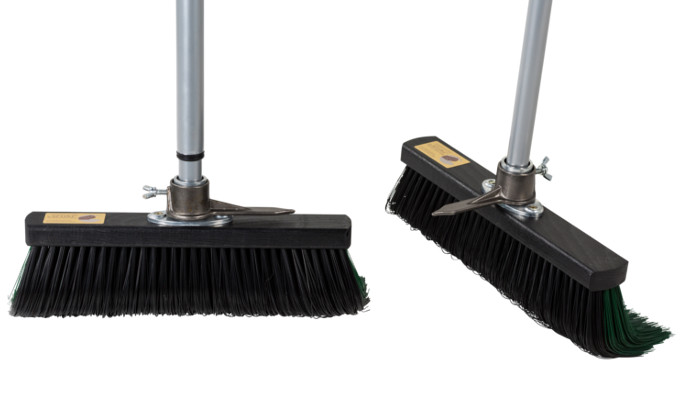 Easily remove the weeds growing between the gaps in stones
Weeds are tenacious things that love to grow between the gaps of the stones in your beautifully landscaped garden. Removing the weeds by hand is such a nasty job; having to get down on your hands and knees, trying to work the weed away with a knife or screwdriver and then having to get the broom to sweep the area clean.
Imagine being able to do this unpleasant but essential job more effectively and quickly. No longer having to get on your knees trying to dig out the weeds; instead, a brilliant broom that lets you lift the weeds out of the cracks in one swift motion. How nice would that be?
Meet the Krav. The unique and innovative gardening tool that is able to remove weeds growing between stones in a snap. Grab the weed with the robust scraper, turn the Krav to the broom side and swipe the weeds in one smooth motion from the cracks. The Krav is the only gardening tool you need to keep your tiles or walls weed-free.