Golden Gbag Set 3 pcs.
Price £16.50 – £38.00
Enjoying a healthy lifestyle is easy and fun with the Golden Gbag. You can grow your own vegetables on a patio or balcony with the unique Gbag. The Gbag is perfectly suitable for small town gardens. The Gbag is easy to move, to wash out and is reusable.
Growing your own vegetables in the Gbag is great for yourself and educational for children and grandchildren. The Gbag lets them learn by experience that vegetables don't come from the supermarket but are naturally grown outside.
Grow your own fresh vegetables. Fun, educational and healthy
A fantastic learning experience for children and grandchildren
Perfect for the city. Fits any balcony
Easy to move, washable and reusable
Unique breathable felt that will grow your vegetables and fruits at significantly faster rates
The Value pack consists of 3 Gbags. Ø 55cm (Red); Ø 45cm (Green) and Ø 35cm (Black)
Tip: Free Gbag when you purchase the value pack.
Order the popular value pack of 3 Gbags. Buy two and get the Ø 35cm version – worth € 16.50 – absolutely free! And you only have to pay the shipping fee once.
Urban Gardening
"Urban Gardening and Grow your own". Healthy living. Grow your own organic fruits and vegetables and prevent wastage. All important trends that contibutes to a healthier lifestyle. If these trends appeal to you and you are keen to embrace a healthier way of life, read on to find out why the Gbag is an essential item for your garden or balcony.
Grow your own vegetables, fruit and herbs in the brightly coloured Gbags. Gbags are made from a special felt that makes everything grow rapidly. The felt absorbs heat from the outside whilst retaining water inside the Gbag. Your fruits and vegetables will grow much faster in a Gbag than in the garden or in other pots.
In the Gbag, for example, you can grow carrots, beets, cabbage, tomato, cucumber and fragrant herbs.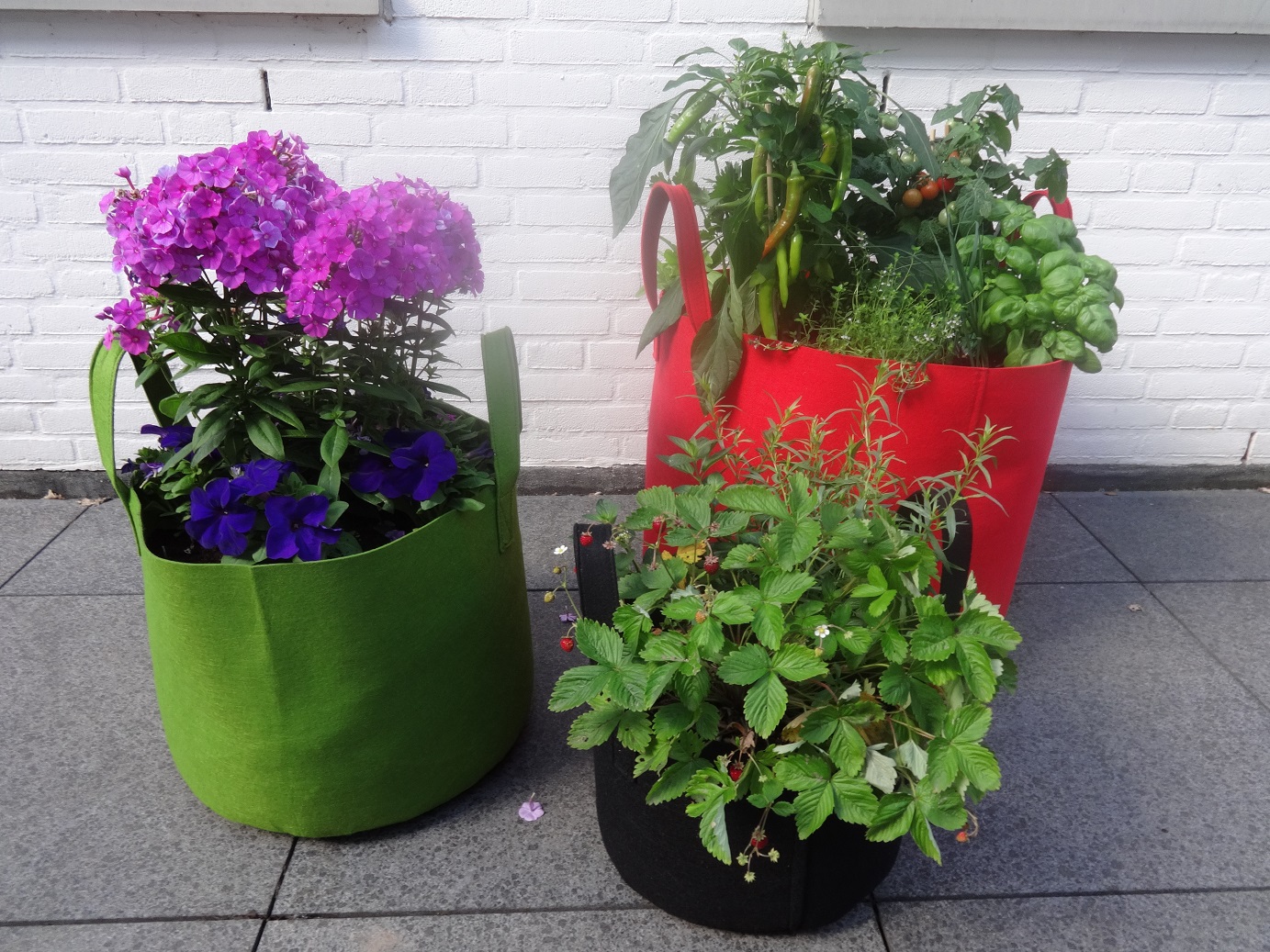 Reusable and movable
Would you like to harvest your own vegetables, fruits or herbs? Think about the joys of eating food you have grown yourself! And the beauty is that you simply reuse the Gbag. After each harvest, simply plant new crops into your Gbag.
Do you want to move the Gbag to a different spot? It's not a problem! The Gbag has 2 sturdy handles that allow you to easily put the Gbag in a different place, in the sun or in the shade.
The Gbag is multifunctional so if you feel like doing something different with your Gbag, the possibilities are almost endless. You could use it for a display of annuals. Indoors, you can also use the Gbag as an waste paper basket or a storage bag for some of your children's toys!